Markham Family Obituaries
---
Death of Effie Nichols
From the Pullman Newspaper, 1887
Near Guy, May 19th, 1887, Effie (Bright?) daughter of Felix G. and Sarah C. Nichols, age six years, seven months and nine days.A Poem by Mina Nichols
Some Words are Missing
Little Effie, thou has left us,
Thou art now at rest;
Your body in the silent tomb,
Your spirit with the blest.
The secrets of the great unknown
Are now to you revealed,
Your spirit with the angel throngs
Where nothing is concealed.
Your voice is hushed; your tongue is still,
Your chair is vacant too;
But in our memories thoudt live,
While years shall come and go.
A peace is yours a joyous rest
The world can never give
In heaven above amoung the blest
You will forever live.
But now friend, adiew,
But not forever more,
Thou hast bidden us farewell,
But only gone before.
. By Mina K.
---
Effie, thou wast mild and lovely,
Gentle as the summer's breeze,
Pleasant as the air of evening
When it floats amoung the trees.
Dearest Effie, thou hast left us,
Here thy loss we deeply feel;
But 'tis God that hath bere-- us,
He can all our sorrows heal.
Yet again we hope to meet thee
When the day of life has fled,
When in heaven with joy to greet thee
Where no farewell tear is shed.
By A. L.
---
Card of Thanks
We desire to earnestly thank our
friends for their sympathy and kindness
at the death of our loved daughter.
Felix G. and Sarah R. Nichols
---
Death of Miss. Viola Nichols
From the Pullman Newspaper, 1900
Miss Viola Nichols, daughter of Mr. and Mrs. F. G. Nichols, died at the home of her parents near this city, Monday evening. Death was caused by a complication of diseases from which she had been suffering over four weeks. At the beginnning of her illness she was staying with her sister who lives on the reservation near Beeman, Ida. She was brought home and given the attentions that can only come from loving hands. The deceased was 17 years of age, and in the spring time of life was called away from the scenes of earth.
The funeral was held from the residence of her parents, Wednesday at 11 a. m., Dr. Kenoyer officiating. A large gathering of sympathetic friends were present.
"And thou, who, o'er thy child's low bier
Sheddest the bitter drops like rain,
Hope that a brighter, happier sphere,
Will give her to thy arms again."
---
Guy, Wash., April5.--The largest funeral procession ever held in this vicinity paid the last honor over hte remains of Ola Nichols in the U. B. Church yesterday. Miss Nichols, who is well known throughout this and adjoining neighorhoods, was taken ill on the Nez Perce reservation and after being removed to the home near Guy has lain suffering for weeks with Bright's disease. The services were conducred by Dr. Kenoyer.
---
Pullman, Wash., April 6.--The funeral of Miss Viola Nichols took place from the home of her parenrs, Mr. and Mrs. F. G. Nichols, Wednesday. The deceased was stricken down in the bloom of youth, being just 17 years of age, and had been ill but a few weeks.

---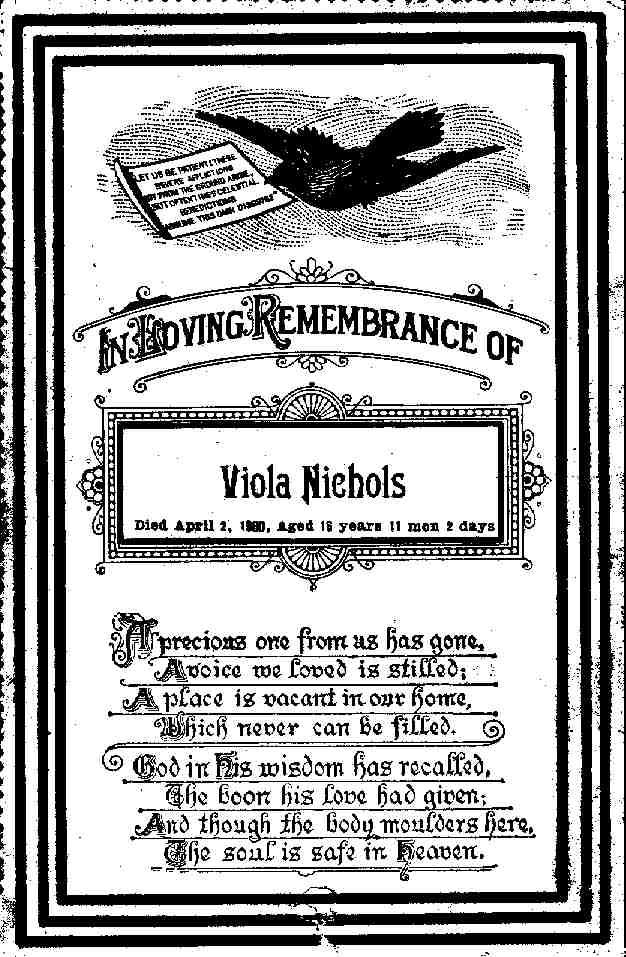 Fifty Year Pioneer
Passed Away Tuesday
Felix Nichols, Aged 84 Years, was
Born in Covered Wagon--Came here in 1878
Felix Grundy Nichols, aged 84 years, passed away Monday afternoon at the J. F. Cochran home at 1503 State Street. Mr. Nichols was one of Pullman's earliest pioneers, having located on a farm near this city in 1878, just 50 years ago. Several years ago he removed to Montana, but came back to Pullman about eight months ago when failing health made a continuation of active farming Impossible.
Funeral services were held Wednesday afternoon at Kimball's chapel, in charge of the Rev. C. E. Stanton of the Christian Church.
Felix Nichols was born November 16, 1843, in a covered wagon en route from Kentuckky to Missouri. He came with his parents to Oregon in 1851 and later removed to Montana. Fifty years ago he came to Whitman county. Two years later he was married to Sarah Doty at Albion, Wash. Mr Nichols saw service in the Civil War and was a member of the G.A.R. he was also a member of the Christian Chruch.
Mr. Nichols is survived by his widow and the following children; Mrs. Emery Richardson, Pullman; Mrs. J. F. Michels, Orefino, Idaho; Mrs. B. A. Patterson, Albion; G. G. Nichols, Hamilton, Mont.; Mrs. Peter Stump, Crescent, Idaho; and Mrs. M. L. Markham, Roundup, Mont. Sixteen grandchildren and two great grandchildren also survive.
---
Death of Sarah Nichols
1928
Mrs. Sarah R. Nichols, mother of Mrs. J. F. Michels, died at the Michels home here Thursday. May 31. Mrs. Nichols was 69 years old and had been a pioneer resident of Whitman county, Wash., spending fifty years of her life there. Her husband passed away in February of this year and Mrs. Nichols came here about three months ago to make her home with her daughter. A short time ago she fell and broke her hip and the shock of this accident is thought to have hastened her death although the break was healing nicely. The body was shipped to Pullman where funeral services were held Saturday.

---
Lela I. Houck, 92, Native of Pullman
From the Lewiston Tribune, Wed., October 10, 1990
Moscow--Pullman native Lela Irene Houck died of causes related to age Monday afternoon at Moscow Care Center, She was 92.
Houck was born at Pullman May 3, 1898, the daughter of Felix and Sara Doty Nichols. The family lived northwest of Pullman in the Banner District, and she attended the Banner rural school.
She married Mert Markham in 1914 and moved to Roundup, Mont, where the couple homesteaded for 14 years. They moved back to Pullman in 1928, and later were divorced.
She Married Edmond J. Houck at Pullman July 21, 1944, and he died June 7, 1966.
During the 1930s and 1940s, Mrs. Houck worked a a cook at the soda fountain and restraurant in the bookstore on the Washimngton State University campus. She was a member of the Pullman Church of the Nazarene and a former member of the Pullman Women of the Moose.
Mrs Houck lived for many years on a family property on Nye Street at Pullman, She later lived in the Kenwood Square retirement home on Nye Street, and moved to the Moscow Care Cenrter in May 1987.
She is survived by a sister, Ona Patterson of Seattle; a son Elden Markham of Lewiston; two daughters, Gertrude Thomas of Rio Linda, Calif., and Phyllis Kjonaas of Indianapolis, Ind.; 14 grandchildren, 20 great-grandchildren and nine great-great- grandchildren.
The funeral will be at 1:30 p.m. Friday at the Pullman Church of the Nazarene. The Rev. Darrell Tidwell will officiate. Burial will follow at the Pullman International Order of the Odd Fellows Cemetery.
The family suggests any memorials be contributions to the Pullnam Church of the Nazarene.
BACK
This sight is hosted by Home